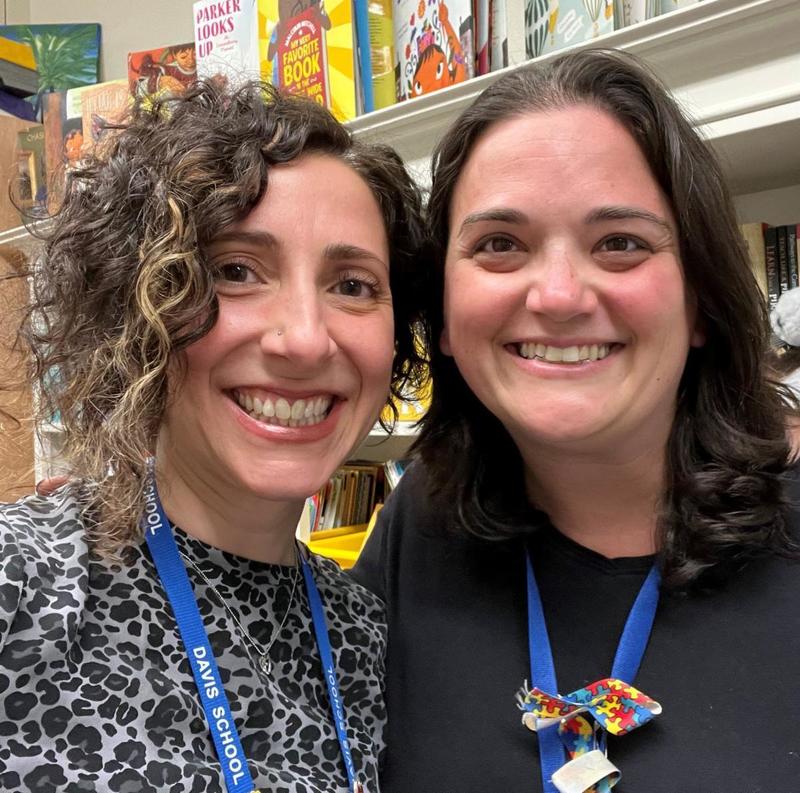 Davis Caring Circles started nearly two years ago as online sessions for parents and personnel from the George M. Davis Elementary School community to share, support, or just simply listen as topics ranging from navigating holiday anxiety to improving communication at home were introduced as a coping strategy for families.
"We start every circle or every session with norms and we tell the families about the ability to speak and listen from the heart," said Davis Assistant Principal Laurie Marinaro, at left in the photo, who facilitates the monthly hour-long sessions with school social worker Heather Cayanan, at right. They say the sessions have become support groups, providing useful tips for parents to help bridge the gap among home, community, and school.
"We don't want this to come off like workshops, 'here's us telling you every single thing that you need to know because you're not a partner.' We want them to feel they are part of the solution, that they can offer suggestions to each other, that they're a strong, powerful group because they are part of a group like this and willing to share their experiences at home," said Marinaro.
Davis Elementary School Principal Anthony Bambrola said Caring Circles were inspired by former school district Assistant Superintendent Anthony Bongo, who set up Zoom sessions for school personnel, parents, and students. The vision was to bring these constituencies together to share and discuss COVID-19's emerging challenges as the pandemic began to disrupt their academic and social lives.
Marinaro and Cayanan piggybacked on that initiative, but they sought something on a smaller scale at Davis. After parents share, they offer tips on a topic that clinicians are able to support. While topics are not specifically about COVID, subjects often impacts caused by the pandemic.
Cayanan said March's meeting topic was on anxiety, as well as how to get your child to come to school and deal with school avoidance, which is related to COVID. "A parent says, 'My child is uncomfortable with a mask; how do you handle it?' or 'My child is having more school phobia now that school is back in session and kids are closer to each other.' They share feelings. We'll go 20-25 minutes with that, and in the last half hour bring up suggestions on routines to keep the anxiety level low."
The sessions are open to all school district parents and personnel and usually run from 6-7 p.m. Their goal is to continue the workshops.
"In a time when people felt very isolated, it was really thoughtful and a smart thing that they put together," said Tara Ciscone, whose son is a fifth-grader at Davis. She has another son in eighth grade at Albert Leonard Middle School. Having checked in on all but one of the Caring Circle sessions, often with her husband, Ciscone appreciates the open, honest dialogue and the reassurance that whatever is spoken about stays in the 'circle'.
"They brought in speakers, professionals on topics. You could pick and choose what to take away from each session even if your child doesn't have a learning disability or isn't anxious, But they're all children. It was helpful to get people together," said Ciscone.
Marinaro said, "So many parents say thank you after what they hear from other parents. They realize there are other parents struggling with the same things that they struggle with. It really offers a lot of validation and reassurance for parents when they're down on themselves, especially when it involves their children."